Admission & Hospitalization Reduction
NICaS can help in reducing readmission & hospitalization rates for heart failure patients. Our technology can assist in the assessment and management of CHF patients in various settings.
Reducing Readmission & Hospitalization Rates for Heart Failure Patients
How NICaS Helps Reduce Hospitalization and Readmission Rates:
Utilizing NICaS technology, provided by NI-Medical, can effectively reduce hospitalization and readmission rates for heart failure, including reversions from outpatient settings back to the hospital.
NICaS is accurate, and more importantly, it is consistent. This allows assessment of a patient's clinical response to medication adjustments over time. NICaS enables medication titration not previously seen in these CHF patients. 
NICaS takes the guesswork out of managing difficult patients with heart failure. It facilitates expeditious optimization of these patients.
NICaS helps to identify patients with impending heart failure before they reach the stage of decompensation, allowing the time to make the necessary adjustments that prevent deterioration.
Using NICaS for the management of HF patients reduces Hospital Readmission Rate by over 90%.
Heart Failure Hospitalizations In Numbers
CHF is the chief diagnosis in 875,000 hospitalizations annually, and the most common diagnosis in hospital patients aged 65 years and older.
Heart failure is responsible for 11 million physician visits each year, and  leads to more hospitalizations than all forms of cancer combined.
The majority of hospital admissions for heart failure are, in fact, readmissions. 
Approximately 24% of the people discharged from the hospital with heart failure will be readmitted within 30 days. More than half of them will be readmitted within 6 months. 
Heart failure is the number one discharge diagnosis seen by Medicare. The direct and indirect costs of heart failure add up to about $40 billion annually.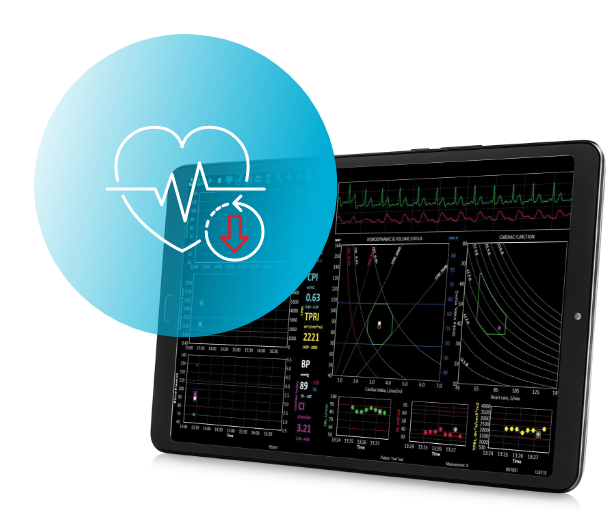 ICU/ICCU
Determining the cause of hypertension or hypotension by each patient's objective hemodynamic
Gestational Hypertension
Determine the exact cause of hypertension for Preeclampsia management
Heart Failure
Providing caretakers with accurate information on patient hemodynamic status
Authors: K Orvin, T Grinberg, R Kornowski, Maya Wiessman, Yaron Aviv, Leor Perl CONCLUSION: A unique pattern of short and longer-term adaptive hemodynamic changes was